Winning Go-to-Market Online Strategies: The Right Teams, Priorities & Metrics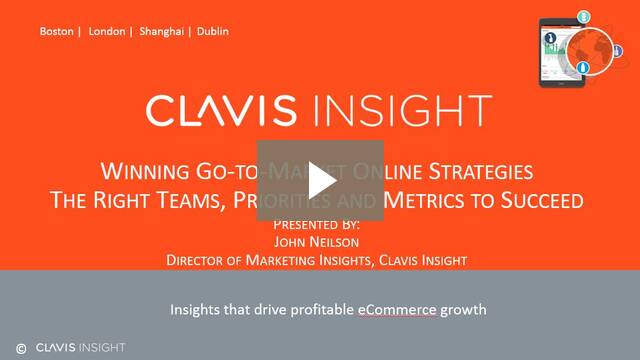 View the preview video, then complete the form on the right to access the full recording and webinar presentation.
Presenter:
John Neilson
Director of Marketing Insights
Clavis Insight
Description:
With the rapid growth of sales online outpacing bricks-and mortar and the pervasive influence of online on all sales, brands need to reconfigure their go-to-market for this channel. That means rethinking and building the right teams, prioritizing what needs to be done, and tracking and monitoring the key metrics to measure progress and success.
View the webinar and learn how…
Leading manufacturers organize for the eCommerce opportunity
eCommerce team members can utilize analytics and partner with eRetailers to improve performance in online stores
To align key online store metrics to objectives for each function in the organization
To set shared KPIs for sustainable eCommerce growth
John Neilson is Director of Marketing Insights at Clavis Insight providing market research data and analysis to help global Fast Moving Consumer Goods (FMCG) manufacturers understand the eCommerce landscape. He has over 10 years of experience and expertise in the FMCG retail and insight industries.